Remortgaging now could save you over £1800 per year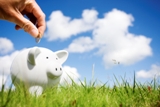 With the Bank of England Base Rate still firmly fixed at 0.5% – an historic all-time low – now could be the perfect time to think about remortgaging in order to take advantage of low fixed interest rates across the remortgage market.
Recent research carried out by Halifax indicated that remortgaging now could not only help homeowners to make savings in the short term, but could help to protect them against future rate rises.
The average variable rate is currently 4.4%, but with fixed rates averaging at 3.15%, borrowers who stay with a variable rate mortgage deal could end up paying more than they need. As an example, if you have a mortgage of £150,000 at a variable rate of 4.4%, you could be paying approximately £6,600 per year (£550 per month) in interest, but if you switched to a fixed rate mortgage, you would pay only £4,725 per year (£393.75 per month) in interest payments.
Craig McKinlay, mortgages director at Halifax, said that fixed rate mortgages were currently offering a better deal in many cases than standard variable rates, adding: "For more than two years the gap between SVRs and fixed rate mortgages has grown, with the latter falling to record lows."
Remortgage and save
McKinlay stated that: "Current growth projections in the February Inflation Report support the expectation for a first interest rate rise towards the end of 2015, though uncertainty around the timing remains high."
With record interest rate lows, now could be the time to take advantage of top remortgage deals before they disappear. To find out more about getting a remortgage, call the Remortgage-net team on 0117 332 3389.